THE WELFARE JUNGLE

We don't need food stamps. We share a happy meal and we're fine.
And one day my son the busdriver will drive YOUR children to school
There are a lot of jobless in America. There are a lot of single parents here, too. What is to be their fate?
Newt Gingrich (named after a reptile) reflected the heartless tone going on in Washington (with the right wing or G.O.P) the day in 1996 that he proposed 'parents who can't get jobs should have their children taken away from them and put in public institutions—no giving the parents welfare!' That indicated that the DEMISE OF WELFARE-ball was rolling south and would crunch the massive entitlement program for the poor. The LIBERAL MEDIA went WILD! He was called a Grinch. (Odd that the letters needed for the word 'GRINCH' are contained within his name.) Shortly afterward, Clinton gutted Welfare. A jobless mother and father could no longer dare ask for welfare. The father would have to move out of the house for his wife to seek aid as a single parent. No matter where the father hid, the government would pursue him, threatening Poppa with jail if he couldn't raise child support each month to pay Gov back for its aid. Plenty of men were imprisoned and there were fathers who simply suicided.
Over-the-top tpre-esting of the waters by some pundit has frequently presaged changes in law which Clinton did shortly afterwards, in 1996. There's always a test balloon in the media, for a war, a new law. Nazi Geneticists toyed with ridding the concept of gassing homosexuals, retards, miscreants and cripples and when not enough people hollered, did so. Still nobody hollared. So then they gassed Gypsies and Jews.


However, when l8th century writer Jonathan Swift in his " MODEST PROPOSAL" suggested that having the children of the poor Catholic Irish cooked and eaten by the rich Presbyterians would solve the problem of starving Catholics once and for all, that was not a similar testing of the waters and a broaching of serious intent.

That was just mordant wit. I don't know what happened in the wake of Swift's proposal ….although 115 years later, when the Potato famine hit, the rich Prebyterian landowners did leave the poor Catholic spud eaters to die of starvation when they could have easily served soup in public kitchens, so maybe Swift was reading English minds. Not quite a deliberate testing of the waters, though. Though who knows?
NEWT was different. History tells us that within months of Newt's Final Solution, Welfare was over with! So maybe GINGRICH was the conservative right wing charm. His suggestion was so out there, that CLINTON's seemed SOOO much better.
The new, Clinton US welfare "reform" system was and is Grinchy to the max as it forces parents to work at city jobs for slave pay, allowing city to fire tenured workers. It forces mother to put even toddlers in daycare, paying for it themselves, so very young children are separated from their parents, creating dysfunctional, alienated children who turn into adults who again, further down the line, abandon their own CHILDREN, creating CRIMINALS, violent crime, incarceration as well as disease and plague from lack of medical care and psychosis from stress and vitaminosis. (starvation.)And on all levels, the invasiveness of the social worker scares the family silly.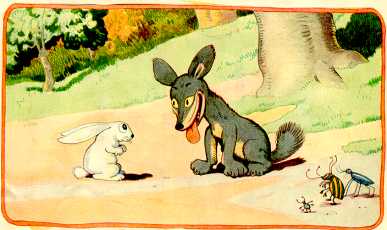 Mommy Rabbit, your kiddies are so cute! They don't look like you.
Are they all from one father? Forgive me for being nosy.
I'm the Welfare System. I'm here to HELP YOU! SO….
How many men can we nail…..err, the fathers' names please?
Clinton had other money saving 'improvements'. Single mothers could only receive public aid for two years, then they had to start cleaning freeways to pay back the city. This allowed the city to fire union workers who had previously before being fired, earned three times the money per hour and Medical and dental benefits. Suddenly Welfare was saving the city money!
In the years that followed the demise of guaranteed AFDC welfare and food stamp benefits to SINGLE PARENTS WITH BABIES millions of American children were added to the nearly two million already living in sub poverty many without either of their parents.
By 1999 as many as 2.3 million children were in foster care or living in the homes of grandparents, other relatives or friends, according to a recent report by the RAND Corporation, the National Bureau of Economic Research and the University of California.
In California, under 900,000 families had aid. Among low-income children, the share living without a biological, adoptive or stepparent in the household rose a full percentage point, to 6 percent in 1999, up from 5 percent in 1997. At thesame time there was a decline in the number of single parent families.
President Bush, along with conservative and liberal politicians alike, hailed the reduction of the number of one-parent families as a confirmation that the 1996 Personal Responsibility and Work Opportunity Reconciliation Act (PRWORA) promoted "family values." If this refers to what exists in the human soul that makes children feel nurtured, parented, and what makes a future generation of nurtured children grow into nurturing adults, this is another Bush lie.
When the PRWORA act comes up for reauthorization later this year, Bush wants Congress to divert $100 million annually from federal welfare dollars to programs designed to promote marriage.
New research, however, indicates a large part of the decrease in the number of single-parent families was due to parents being forced to abandon their children so they could get a job under the welfare-to-work provisions of the new law. The decline appeared to be the greatest among black families and accompanied reports of record numbers of mothers entering the workforce.
By analyzing smaller demographic groups within the larger population categories used in earlier research, researchers produced evidence contradicting the one-sided Bush optimism establishing a direct connection between welfare reform and the breakup of families.
Recognizing that welfare reform actually began in several states in the early 1990s, the researchers compared the family status of children in 1989 with data compiled up to March 2001. By looking back to years before any state had federal waivers in place, they captured effects of welfare reform missed in earlier studies.
By 1996 half the states were employing federal waivers to dismantle various aspects of Aid to Families with Dependent Children (AFDC). Federal legislation in late 1996 changed the name of the federally-funded AFDC program to Temporary Assistance for Needy Families (TANF).Funds were converted to block grants to states and strict work requirements and lifetime time limits were imposed.
In one population heavily impacted by welfare, black children living in the central city, the longer states had experimented with welfare reform and the more enthusiastically they enforced the new restrictions, the greater the increase in children living with neither parent. After taking into account other social factors, they estimated welfare reform led to a doubling of the percentage of black central city children living with neither parent, or an additional 206,000 persons. The authors note "it is rare in social science research to find such large effects of policy on behavior."
Another trend they identified indicates that welfare reform is forcing women into marriages that are likely to break up, with a higher incidence of separation and divorce.
One welfare official in the Bush administration cynically claimed welfare reform was exposing unfit parents. The researchers showed, however, that households where children went to live after being separated from their parents were no better off financially than the ones they left.
Extreme poverty in households with children The economic stresses on low-income families are severe and increased between the mid-1990s and the end of the decade, despite the record stock market boom. In April the Urban Institute published a report showing 300,000 more persons in single-parent families lived in extreme poverty in 1998 than in 1996. The researchers used a disposable income measure including wages, government benefits and costs such as childcare.
A family of three is considered extremely poor when its income falls below $7,135 (in 2001 dollars)or one-half the official poverty level. Researchers acknowledged this threshold was probably too low because they did not factor in increased out-of-pocket costs for medical care borne by parents in low-paying jobs without health insurance.
July's issue of the Archives of Pediatric and Adolescent Medicine reported on a survey compiled by emergency room doctors and others in several cities across the country. It showed increasing numbers of younger children unable to get enough nutritious food to stay healthy, and pointed to the effects of full and partial sanctions imposed on families by the 1996 legislation. The new law uses sanctions to terminate or reduce benefits for infractions of rules including those related to welfare-to-work. It also decreases benefits when changes in income or expenses occur.
Children three years old or younger in families whose welfare benefits had been terminated or reduced were found to have a 50 percent higher risk of being food insecure than those in families whose benefits had not been decreased. They also had a 30 percent higher risk of having past hospitalizations and a 90 percent higher risk of being hospitalized at the time of an emergency room visit.
In families where welfare benefits had been reduced but not eliminated, young children were still almost three times more likely to be admitted to the hospital at an emergency room visit. These findings were true even though 80 percent of the children were receiving supplemental food under the Women's, Infants and Children's (WIC) program and nearly all—94 percent—still qualified for government-subsidized medical care.
(NOTE: FEB 2006, Gov (SSI/SSA) stopped all funding or cash allotments for baby formula in USA. Thanks to Iraq War.)
In Boston and Minneapolis researchers compared all US-born families, including both those that had or never used welfare. There was a 40 percent higher risk of being food insecure, a 30 percent higher risk of being underweight, and a 50 percent higher risk of being hospitalized during an ER visit in 2001 than there had been two years earlier.
The authors note that food stamps failed to mitigate the effects of sanctions or of reductions in benefits even when the reduction resulted from increases in earned income. Recession and unemployment add to family stresses
As alarming as they seem, the previous reports reflect conditions before the recession began in early 2001, i.e., while the economy was still experiencing its longest expansion in postwar history. A report from the Children's Defense Fund, a liberal child advocacy group, indicates the situation has worsened considerably in the past 15 months.
There were high levels of unemployment among families with children by the end of 2001. From late 2000 to late 2001 the number of children with one or more unemployed parents rose by 1.2million, or 41 percent. The one-year surge in children with an unemployed parent wiped outmost of the reduction in children with a jobless parent that occurred during the previous five years of economic growth.
The percentage of single mothers employed had increased from 63 percent in late 1995 to 74 percent in late 2000, and had accounted for more than half the increase in working parents between 1995 and 2000. But between 2000 and late 2001 the number of unemployed single mothers rose by 25 percent, or 171,000 persons. Thus former welfare recipients who were exploited as low-wage labor during the boom were among the first to be thrown out of work once the economic downturn began.
Despite the increase in need resulting from the effects of the recession, states actually spent $546 million dollars less on cash assistance for low-income families with children in 2001 than they did the year before. By 2001 all but one state had families who had exceeded their time limits for TANF benefits and were eligible to be barred from any assistance for the rest of their lives.
It's a known fact that Welfare mothers don't picket. They can't afford the bus ride to the Federal building or the babysitters to care for children. Besides which, they're all tuckered out from cleaning freeways. But more and more Single mommies are coming online. So let's all read up on ARMCHAIR ACTIVISM. A lesson in how to be a vociferous, noisy, useful activist just knowing one thing: how to save files that are online and send them on.
"When we tolerate what we know to be wrong--when we close our eyes and ears to the corrupt because we are too busy, or too frightened -- when we fail to speak up and speak out -- we strike a blow against freedom and decency and justice."—
Robert Francis Kennedy
"Let them call me a rebel and I welcome it; I feel no concern from it; but I should suffer the misery of demons should I make a whore of my soul". - Thomas Paine
"By far the most dangerous foe we have to fight is apathy -- indifference from whatever cause, not from a lack of knowledge, but from carelessness, from absorption in other pursuits, from a contempt bred of self satisfaction."--
William Osler
It is easy enough to tell the poor to accept their poverty as God's will when you yourself have warm clothes and plenty of food and medical care and a roof over your head and no worry about the rent. But if you want them to believe you -- try
to share some of their poverty and see if you can accept it as God's will yourself!"-- Thomas Merton
<=== BACK TO TRACKING THE ECONOMY, an INDEX PAGE
<===BACK TO MONEY SECRETS ONLY THE EXPERTS KNOW
<=== BACK TO SECRETS THE GOV DOES NOT WANT YOU TO KNOW
<===BACK TO THE SECRETS OF THE OLIGARCHS, THE EMPIRE INDEX PAGE

<==== BACK TO THE WALL STREET MELTDOWN WEBSITE, WHO DUNNIT AND WHY
<=== SHOW ME THE FIX INDEX PAGE.
<=== SHOW ME THE HAPPY R)EVOLUTION PAGE
<=== BACK TO "GUERILLA CAPITALISM" -- THE SOLUTION!
<====BACK TO THE "VITAL SIGNS OF A DYING ECONOMY" the "FUTURE" WEBPAGE
<=== BACK TO ENRON PLANET, the DOOMSDAY SCENARIO!
<====BACK TO THE HOLISTIC GOURMET, BON MARCHE
<=== BACK TO THE FRUGAL ARTISAN IMPORT/ EXPORT TYCOON AND HIS "STUFF"
<=== BACK TO THE GLEENERS PAGE
<== BACK TO THE FUTURE INDEX PAGE
<===BACK TO THE GENTLEMAN FARMER'S GARDEN INDEX
<=== INVESTIGATE DOING DRIP IRRIGATE- LINES in PUBLIC GARDENS as a CHARITY
<=== BACK TO "DONE WELL, ACTIVISM IS A DELIGHT and IT CREATES CAREERS for YOU as well as PLANETARY EVOLUTION"
<=== BACK TO THE MALTHUSIAN INDEX PAGE
<===BACK TO THE PHILOSOPHY INDEX PAGE
<=== BACK TO THE LUCK IN LOVE WEBSITE
<== BACK TO THE PROPAGANDA STUDIES WEBSITE, HOW GOV LIES TO YOU
<=== BACK TO ALL POINTS OF THE COMPASS POLITICAL PHILOSOPHY TUTORIAL
<=== BACK TO JERRY'S REFRIGERATOR & the Tin Foil Hat Collection of CONSPIRACY THEORIES
<====BACK TO THE FREE MONEY WEBSITE
<==== BACK TO THE HARD TIMES WEBSITE
<===== BACK TO THE POVERTY INDEX PAGE
<==== BACK TO THE "TIPS to SURVIVE THE FUTURE" INDEX PAGE
<==== BACK TO THE "FIX YOUR FLAGGING AMBITION" SEMINAR
<=== BACK TO THE SNOOKERED INDEX PAGE
<===BACK TO THE REALITY 101 SEMINAR FOR TEENS
<==== BACK TO THE SHOW BUSINESS PAGE, ARCHIVE, SEMINAR, WHATEVER YA WANNA CALL IT
<====HOW TO TINKER WITH OTHER PEOPLE's BRAINS (New Age tech) & get PAID
<====BACK TO THE NEW AGE EMPOWERING INDEX
<===BACK TO "HOW TO MERCHANDISE YOURSELF" INDEX
<===BACK TO THE ALL ABOUT TAXES INDEX PAGE
<=== BACK TO THE FRUGAL TIPS and CHEAPO LIFESTYLE WEBPAGE
<=== MEET ANITA SANDS WHO WRITES ALL THESE ARTICLES
<=== TAKE ME TO THE HOLISTIC PET, HOW NEVER TO NEED a VET
<=== BACK TO THE TRUTHS ABOUT DENTISTRY THAT WILL SAVE YOU 100 THOUSAND!
<=== BACK TO THE SNOOKERED WEBPAGE, HOAXES WE HAVE ALL KNOWN
<===BACK TO EVERYTHING YOU NEED TO KNOW ABOUT WEB STUFF SO YOU CAN MAKE YOUR OWN WEBSITE
<==== BACK TO THE "MARRY A BILLIONAIRE, SAVE THE WORLD" WEBSITE for BEAUTIES