http://www.astrotheme.com/astrology/Orlando_(Florida)
uranus in taurus 28 degrees, for WEEPY EVENTS and the killer's MOON exactly on it.
Then to cap it off, MONDAY an alligator ran off with a two year old. That's 3 horrors in a week. But now MEATLOAF fell off the stage unconscious. HE HAS
JUPITER AND THE CUP OF SORROWS
(SOUTH NODE) in 25 SCORPIO RIGHT UNDER THE ENTIRE AFFLICTION. JUPITER rules his career house, tenth house. And Brit Pol Jo Cox gets shot and stabbed. TOTAL MEDUSA OVERKILL.
THOSE THREE PLANETS you see at top of chart were hanging in the SOUTH OVER THE OCEAN if you were walking on the Promenade Des Anglais. Again, the ROUTE is depicted in an interesting NY TIMES panorama: http://www.nytimes.com/interactive/2016/07/14/world/europe/trail-of-terror-france.html?_r=0 What it doesn't show is the REVERSE VIEW. The ocean shining under the SOUTHERN SKY, MOON in SCORPIO was conjunct MARS, Saturn nearby, RED STAR ANTARES you do not see depicted but THREE TIGER EYES hung low over the ocean with the MOON.

The 8th sign, the 8th house & the city suffered double 8s, 88 DEAD (ONE MISSING STILL). 27 deg. AQUARIUS was rising. URANUS lord of the hour was afflicted by Saturn,Neptune and MARS, 3 evil planets on top of a fourth, a really astrologically dark night. All astrologers were apprehensive for days earlier as they saw MOON AND MARS coming together. They were anticipating a big one. Boulel with his SATURN in SCORPIO 25 degrees RIGHT UNDER THAT MOON OF THE THREE TIGER'S EYES GAVE IT TO US. (See his chart below)

THE. KILLER'S CHART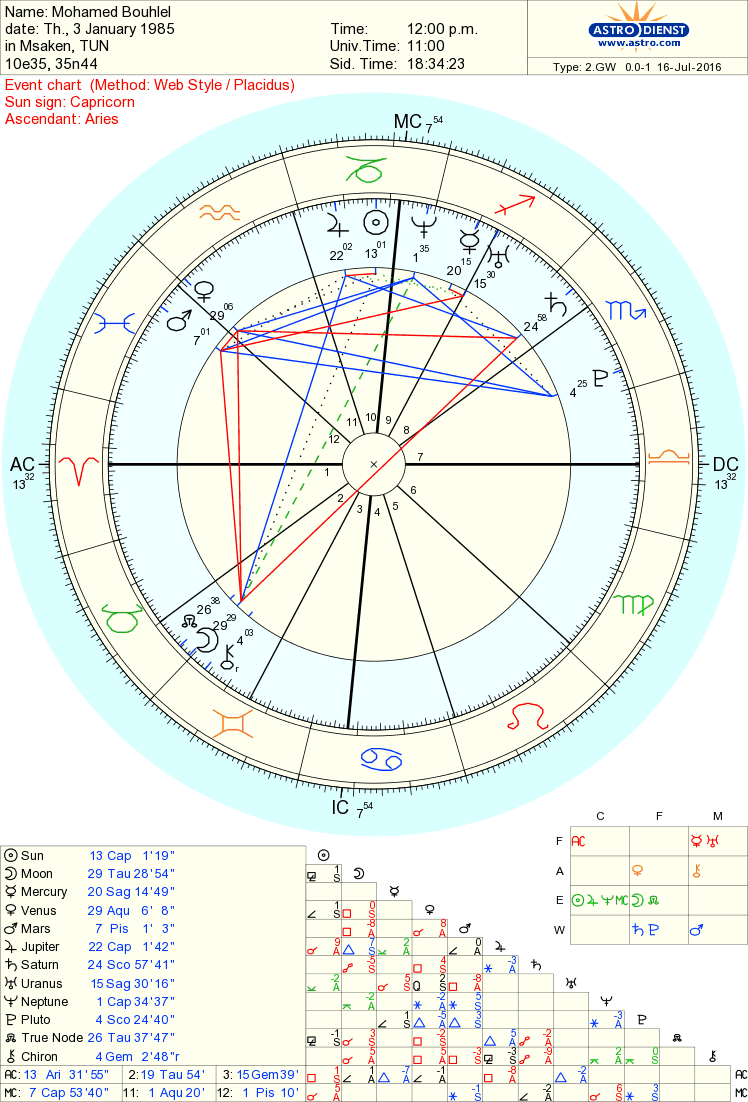 THE BASTILLE KILLER'S CHART IS ABOVE. SEE SATURN in upper right hand sky? 24 SCORPIO, 25 really as the seconds and minutes add a degree. (Very SIMILAR to ORLANDO KILLER, MATEEN. ) Mohamed had SATURN MOON AND VENUS in a T square with the MEDUSA STARS. Mohammed's Naturalization card was all over the net. I read bottom string of numbers, it sez 85. we know he's 31 or born 85, and next to it Jan 3rd so I check and wiki has it already jan 3 85 and several astrologers have already done his chart,it's in cyberspace.

That puts his natal Saturn 24 SCORPIO opposite MEDUSA binary stars CAPULUS AND ALGOL, smack under the Transiting MARS station (Mars going back and forth in this degree doing a retro, scorching like an iron. for a month... since ORLANDO massacre til now, Mars stationery in Scorpio opposed Mohamed's moon. So I did his chart for a noon birth but if it were earlier, 1 am or something moon is tightly opposed saturn with the MEDUSA FIXED STARS REALLY involved...

Tho --MOHAMMED'S moon conjunct the Pleiades is anguish enough. The constellation of the weeping sisters shows 'something to weep about." So maybe it is noon birth. CAPRICORN RISING AT DAWN, ARIES RISING at NOON, both give a bad temper But it Could be 1 am 2 am giving CANCER rising, MOON the ruler exactly LINKED TO VICIOUS MOODS of Moon/ SATURN, particularly in the MEDUSA DEGREES. Moon/VENUS and SATURN means family break up, disaffinity with wife. She threw him out recently. Neighbor says he's been alone in an apartment for 4 months that she has been in bldg. Since the JUNE ORLANDO dates, he, like Omar Mateen, has been in a mood to do mass murder.